Upper School Schedules

Grades 3, 4, 5                  Sunday 9:00am – 11:30am and Wednesday 4:30pm – 6:15pm

Grade 6                            Sunday 9:00am – 11:30am and Wednesday 6:30pm – 8:15pm

Grade 7                            Monday 6:30pm –  8:15pm and Wednesday 6:30pm – 8:15pm
Goals of the Upper School Program
Beginning in 3rd Grade, students begin attending Religious School two days, one of which is focused on Hebrew studies. By the time students graduate from the Upper School program, they are able to decode Hebrew prayer, as well as comfortably write in both block and cursive. Each year, students focus on a different part of the Shabbat evening and morning services, and also lead Junior Congregation on Sunday mornings to help them become comfortable and competent prayer leaders as they work towards B'nai Mitzvah. Each year also focuses on different areas of Judaic studies, such as Holidays, Israel, Tanakh, Midrash, and Life Cycle to promote a well-rounded understanding of what it means to be a member of the Jewish community.
Curriculum
3rd Grade – Jewish Time
This is the year that students become proficient in reading and writing in Hebrew! With this new skill, they will be able to begin to learn prayers and new Hebrew vocabulary. Throughout the year, students will also focus on "Jewish Time." Through fun, experiential learning, 3rd Graders will practice the custom and traditions of each holiday from Rosh Hashanah to Tu B'Av, and by doing so, gain understand of how and why each holiday occurs at different times throughout the year.
4th Grade – Israel and the Prophets
The main focus in 4th Grade is on Israel. Students will learn about the history of Israel as a country, and its modern significance to Jews. Students will also learn about the parts that make up the Tanakh, spending some time learning some of the stories of the prophets as well as some of the beautiful poetry found in writings. 4th Grade is also a very special year as students learn how to write Hebrew in script to further foster a connection to modern Israel and bolster literacy and letter recognition. As their literacy skills increase, they will also study the prayers that are included in the Shabbat Evening service, allowing them to easily participate on any Friday evening!
5th Grade- Torah and Midrash
5th Grade students return to Torah study in a whole new way! Using some of the stories and characters they have learned about in previous years, students will begin to learn the process of writing a D'var Torah and about the concept of midrash as a way to further explore the stories of our past. In Hebrew, students will learn to decode the words and gain understanding of the meaning of the prayers that are included in the Shabbat morning service. The introduction and mastery of these things will help students immensely as they inch closer to the beginning of their B'nai Mitzvah studies.
6th Grade- Jewish Values and Jewish Life Cycle
In the final year before B'nai Mitzvah, students will begin by learning about middot, or Jewish values. They will be asked to explore what makes these values Jewish, and how they can be applied to everyday situations. Students will also learn about important Jewish Life Cycle events from Brit Milah to B'nai Mitzvah to the Jewish mourning process as they prepare to become adults in the TBT community. In Hebrew, the students will study the prayers included in the Torah service, as well as the choreography that goes along with each one. They will also spend time learning the concluding prayers of the Shabbat service. Finally, the 6th grade class will spend approximately four sessions learning the basics of Torah trope with Cantor Timman to give them a leg up as many of our students begin B'nai Mitzvah tutoring.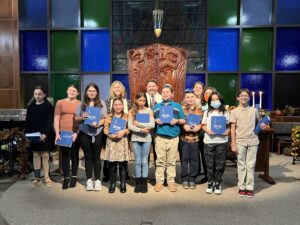 7th Grade- Holocaust Studies, Founders, and Conversational Hebrew
As many of the 7th Grade students become B'nai Mitzvah, we feel it is extremely important to broaden their understanding of key pieces of Jewish History. To that end, students spend roughly half of the year learning about the Holocaust through specially designed lessons intended to teach the subject in a gentle and meaningful way. Students will be preparing presentations that will be incorporated into the congregation's Yom HaShoah service at the end of the year. They will also spend about half of the year learning about some important individuals and Jewish leaders as a foundation for some of the material they will begin to learn as students in Kulanu, the High School program here at TBT. Finally, to further their comfort level with reading and pronouncing Hebrew, words, the 7th Grade students will begin the year with a brief prayer review, but then move on to basic conversational Hebrew.
Click here for registration forms